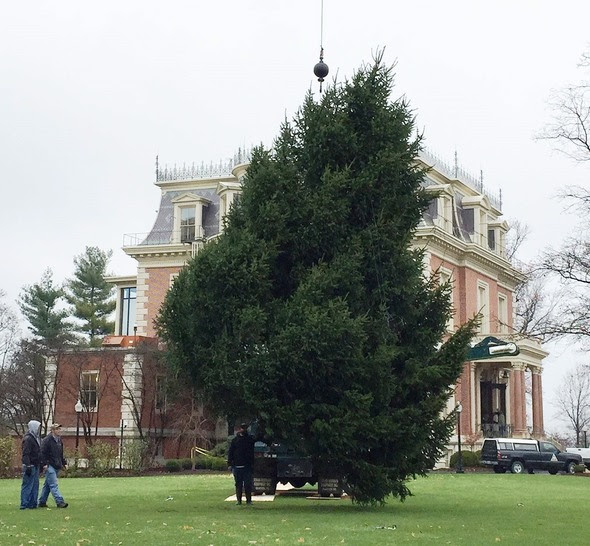 Have a big nice Christmas tree for the governor? If you do, the Missouri Department of Conservation would like to hear from you. Get your entry in by September 30th. Here's where to get more info or enter a tree: https://goo.gl/qOmnp9
Missouri deer hunters who harvest deer and use Telecheck will get some new questions you probably should be prepared for.
Telecheck will ask deer hunters who harvest does if the distance from the edge of the eyeball to the edge of the nostril is greater than 4.5 inches. For deer hunters who harvest antlered bucks, Telecheck will ask if the circumference of an antler one inch above the base is greater than 2.5 inches (the approximate circumference of a nickel). The measurement request will not apply to hunters who harvest button bucks. The info will be used to determine age classes of harvested deer so they can manage the herd better,
The MDC is seeking comments on management at Busiek State Forest and Wildlife Area in Christian County. You need to get your two cents worth in this month (September) and you can get the details at
https://goo.gl/QwiP1z.
There has been initial approval made by the Conservation Commission on Smallmouth Bass and Rock Bass (known as Goggle Eye in Missouri). There will be a comment period beginning in October. The new regs will change length and possession limits in certain waters and the Commission hopes these changes will ensure a sustainable fishery for future generations. MDC makes reg proposals based on sound science, and often local interests find them objectionable because they might change the way things have been. We encourage readers to educate themselves on the reg changes and give their input. More info is at
https://goo.gl/lzrS6a.
One of the largest public land areas in Missouri is Current River Conservation Area, and MDC is also seeking
input on its management. The comment period ends September 30th.
This area is rich in outdoor opportunities including paddling, fishing, hunting, hiking, and camping. Let MDC know what you'd like to see happening in the area. Info is at
https://goo.gl/QwiP1z.
The MDC has designated a new State Champion Tree - a
chinkapin oak tree in Columbia, as the largest of its kind anywhere in the state.
MDC Community Forester Ann Koenig took an official measurement using a uniform formula to assess a point value to big trees. The formula, which accounts for the tree's height, crown spread, and trunk size, scored 310 points for the tree Russell nominated – dethroning the previous state champion chinkapin oak in St. Charles County by only 17 points. See this beautiful tree below.
If you are interested on improving habitat on your property, particularly for quail, get a copy of the Covey Newsletter from MDC at
https://goo.gl/Kb1AeW
If you are looking for some family outdoor fun on September 24th, check out Family Outdoors Day in Lee's Summit.
Exhibits and teaching stations will be set up throughout the Reed Wildlife Area at 12405 S.E. Ranson Road. Also serving as co-sponsors this year are Nathan's Catch, a non-profit effort providing fishing rods and reels for youths, and the J.E. Fehsenfeld Family Foundation in memory of Jan M. Dillow.
Fishing gear and instructors will be available at a Reed Area lake. MDC staffers and volunteers can provide hands-on instructions on how to cast bait or a lure with a rod and reel. Loaner gear and bait will be provided for fishing. MDC experts can also answer questions about fish populations in the region's lakes and streams.
It will run from 10 until 3 and more info is available by calling 816-622-0900.
With the Missouri deer season now underway with the archery season going, hunters are encouraged to help the less fortunate by utilizing the Share the Harvest program.
The program works by deer hunters donating their extra venison -- from several pounds to whole deer -- to participating meat processors throughout the state who grind and package the deer meat. The packaged venison is then given to food banks and food pantries for distribution to Missourians in need of food assistance.
Processing fees are covered entirely or in part by numerous local sponsors, along with statewide sponsors that include: MDC, CFM, Shelter Insurance, Bass Pro Shops, Gateway Area Chapter of Safari Club International, Missouri Chapter of the National Wild Turkey Federation, Midway USA Inc., and the Missouri Food Banks Association.
Funds are available to help with processing costs when a whole deer is donated during all portions of the archery and firearms deer seasons. The Conservation Federation of Missouri reimburses processors a pre-determined amount for each whole deer donated. This allows processors to reduce processing fees to hunters. In addition, many processors have local funds available that allow deer to be processed for free or at a reduced cost. Hunters should contact individual processors to determine what funds are available. The cost of processing is the hunter's responsibility when funds to help cover the full cost are not available.
Get more info on Share the Harvest at
https://goo.gl/hf7OVM