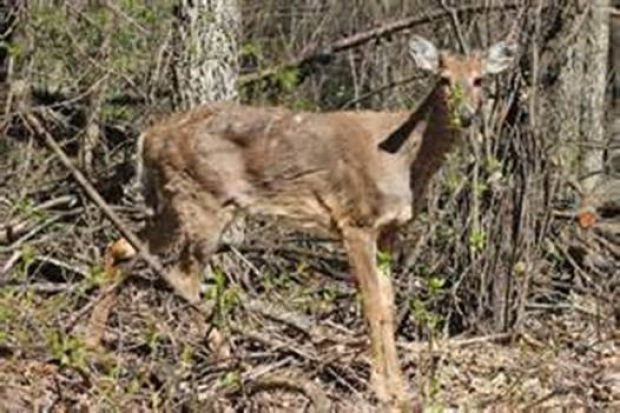 Deer with CWD
Through the efforts of sportsmen and organizations like the Conservation Federation of Missouri, all of the crazy legislation proposed by the Missouri legislature failed to become law. However, that has not eliminated the effect that these narrow minded, special interest legislators have had on game management in the Show Me state.
Take a look at the new deer regs and see how the CWD containment zones have changed. The MDC has done as good a job as possible, but they are fighting the fight with one, or maybe even both hands tied behind their back.
Because of the threats by MO legislators the past two years, after MDC tried to take commensense steps to fight CWD, MDC has relented on the regs implementation that would have had the most effect.
The best case scenario for CWD containment and then elimination would be to shut down captive cervid operation, aka fenced deer and elk. The next best scenario would be to have these operations double fence to create a zone of separation between captive (where the disease ALWAYS has been shown to originate in MO) and wild deer and elk. The first option was a no-go almost from square one. The MDC got bullied off implementing the second by the tools of the cative cervid industry who did not want to spend the money to make their operations safe for the health of the Missouri deer herd.
The result is that for the benefit of a relatively small Missouri industry, a great engine of economic benefit for the state is being threatened by the spread of CWD.
This does not even address the passion sportsmen do or should have for what is being permitted to happen. The tact MDC will now have to take is to liberalize deer harvest to the extent that essentially the herd is so reduced to make it difficult for CWD to spread. That will mean a potentially long period of few deer after this policy runs its course.
It is not too late to get the attention of legislators and MDC officials. Bend their ear on the phone by email, and on social media. As a Missouri deer hunter, I feel passionate about our game management being controlled by politics and special interests. So should you.